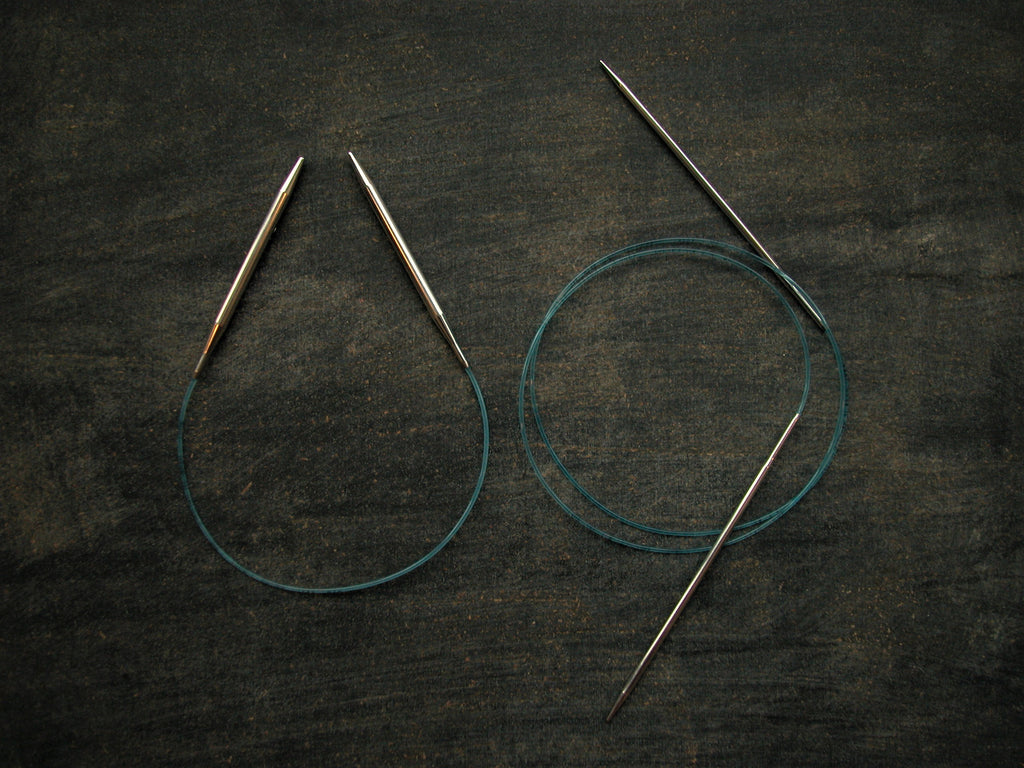 Addi Turbo Circular Needles
We call the Addi Turbo brand needles "the Cadillac of needles". In other words they are the needles you choose for a little luxury. Made in Germany with precision engineering and under healthy working conditions, Addi is the gold standard for knitting needles. Are they lightweight? Yes! Addi Turbos are hollow brass with a coating of white bronze so they are very light. They also boast that knitters will knit faster with Addi Turbos - that's why they call them "turbo" doncha know! This brag has the ring of truth. The slick surface of these needles means that stitches can travel at a lightning pace. The joins between the cord and the needle are top of the line and leave others in the dust. The cord is also the best - strong, flexible, never coiling or kinking. Did I mention the lifetime guarantee?
Metal needles are excellent for experienced knitters or tight knitters.
Standard Addi Turbo Needles come with a blunt tip - great for those who push on their needle tips while they knit, but there is also a sharp tipped version. These are called Sock Rockets, shown in the picture on the left. Choose Sock Rockets if you are a lace knitter or crave exactitude and precision in your knitting needles. The Knit Café stocks Sock Rockets in the 100cm/40" length as they are excellent needles for magic loop knitting thanks to the wonderful cords and joins. 
Choose your circular needles based on size and also length. In general, 40cm/16" lengths are good for hats, short cowls and new born pullovers, use 60cm/24" lengths for child size pullovers, use 80cm/32cm lengths for long cowls, adult pullovers, and blankets, 80cm/32" and 100cm/40" are the best for using the magic loop knitting technique.
Tips for the 40cm/16" needles are 9cm/3.5" long and the longer lengths come with a 12.5cm/5" long tip. Both are very comfortable to use.
Warning, once you try Turbo you may never go back.